Khwab Mein Jannat, Hoor ya Mewa Dekhna
خواب میں بہشت کی نعمت کو دیکھنا
To See Blessings of Heaven in Dream
Khawab mein bahisht ki naymatoon ko dekhna ki tabeer is an interesting phrase. The dream is connected with a person who is in need of prosperity, and its interpretation in accordance with Islamic tabeer is also an excellent one, as well as its interpretation in the Al-Kimrani and Ibn-e-Sireen books.

Khwab Mein farishto ko dekhna
Agr khwab mein dakha ka farishty hath pkar kar us bashist ma la gya ha or wo wakt par tobha ka saeya ma batha ha to daleel ha ka do jhan ke morad paya ga.Farman hak tala ha ka (Ya un ka lea kush khabre or acha ha).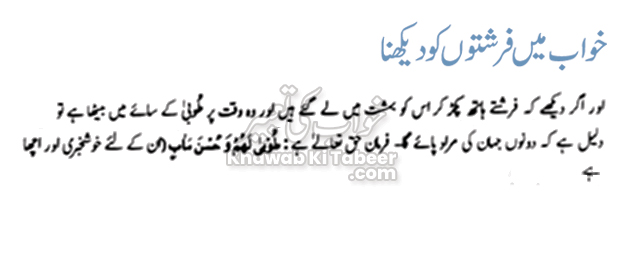 Khwab Mein Hoor Ko Dekhna
Agr koi shaks khwab ma hoor ko dekha to daleel ha ka nazha ka wakt us par bhot asan ho ga.

Khwab Mein Mewa Dekhna
Agr koi dkha ka bahist ka mewa is ko kese na deya ha to daleel ha ka es ko es ky elm sa hesha ho ga .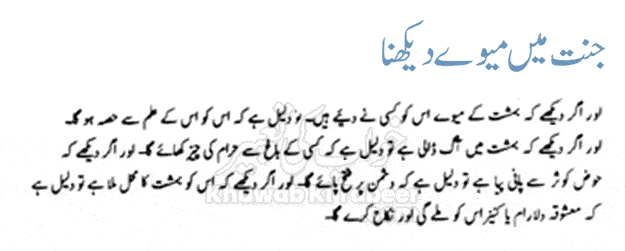 The interpretation of your dreams can be obtained from all of the ancient sources. Besides being religious, the dream is also spiritual. Such a dream can be achieved only if you have done good deeds and have a spirit of helping those who need your help to solve their problems. Indeed, it is one of the greatest blessings that Allah Almighty chooses you to perform this task.When someone sees blessing of heaven in a dream, it means that the person will lead a life on a way of righteousness, good deeds, and avoiding all sins. The dream is reflecting that the person will enter the heaven after his death.
(ب) سے شروع ہونے والے تمام خواب
Comments
اپنے خوابوں کی تعبیر پوچھیں