Khwab Mein Makan Ki Chat Dekhna
خواب میں چھت دیکھنا
To See Roof Of A House in Dream
For a dreamer, building, installing, or even seeing a roof symbolizes abundance or prosperity. Dreams about a roof can be both good and bad in Islamic interpretations until the dreamer doesn't see a roof falling down.However, don't give up hope because the realities can never be predicted this way.From Allah, the best of the worst...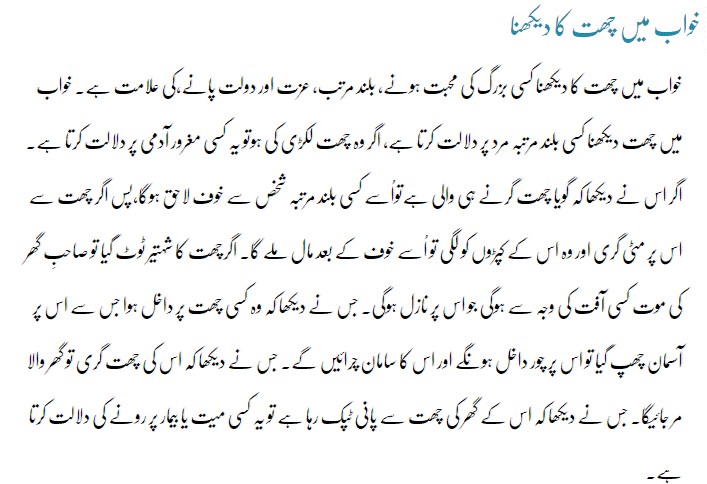 Khwab Mein Chat Dekhna
Khwab mein chat dekhna kese buzurg ke mohabat hona,bolnd martbha,ezat or dolat pana, ke elamat hai.khwab mein chat dekhna kese boland martbha mard par dlalt karta hai,agar wo chat ke lakri ho to ya kese magror admi par dlalt krta hai agar us ns dekha ka chat gerna he wale hai to us kese boland martbha shaks sa khof lahak ho ga.
can be turned into comfort and peace. You should continue to pray and read the holy Quran regardless of your situation. When someone sees roof in the dream, it is a good dream for the person. It means that the person will get married with a pious woman and both will lead a happy life.
(چ) سے شروع ہونے والے تمام خواب
Comments
اپنے خوابوں کی تعبیر پوچھیں